Branded Business Email
Interactive email Branding as a sales and marketing channel
Benefits of everyday business e-mail marketing
85% of business communication via everyday email
One to one / One to a few
Emails to customers, prospects, suppliers & partners. What employees do daily in any event.
Content very personalised and targeted
Frequency: Continuous
Just about 100% delivery.
Average Open rate: Very High.
Business critical. Users place high priority on business email (trusted sender / trusted recipient).
Why business Mail?
As a primary means of communication, your business email is often also the first impression people have of your brand. We all know that first impressions are lasting ones, so why not make them count?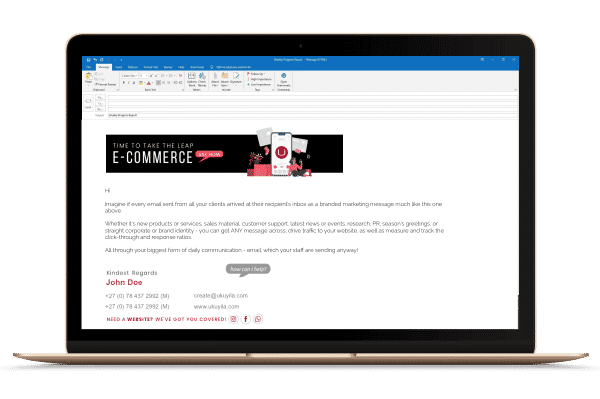 The value of Business Email as a Digital Marketing tool is undeniable:
Your business email is a marketing channel you already own and control;
Employees make use of it on a daily basis to communicate with existing clients and prospective leads;
It's the most frequently used form of communication with your most valuable audience: existing customers; prospective leads; suppliers; partners and investors. This is the audience that is also most likely to buy, repurchase or refer your business to others;
It's the marketing channel with the highest open, read and response rates;
The content is highly personalised and acutely targeted;
It's business critical – users place high priority on business email (trusted sender/trusted recipient);
It's one of the most cost-effective promotional tools.
Features
Beautiful, interactive email branding campaigns that look professional, sell your business and become your most cost effective promotional platform.
Works Across Mobile Devices
Scales down beautifully on mobile devices, so no matter what mobile device your recipients use to read their email, all the emails you send will still feature your professionally designed email stationery and clickable marketing messages.
Custom Designs
Our Design Team will create your email branding in-line with your corporate identity, ensuring that your email is not only unique to your brand, but that it also becomes your most cost-effective promotional platform.
Easy to set up
Requires no IT, expertise or hardware – allowing you to create digital marketing campaigns in every email you send with ease.
Cost-Effective And Budget-Friendly
You can activate your email branding for all of your employees, or only specified users. No long-term contracts, and you only pay for what you use.
Versatile
Apply different marketing banners across different employees and branches, or update them across your entire organisation in a single click. Target the right people, with the right offer, at the right time – every time.
Great Support
Our support team is on-hand and ready to help you with any enquiries, updates or set-up requirements.
Sender
E-mail is sent from you or an employee
E-mail Infrasctructure
It passes passes through Office365, G-Suite, POP, IMAP etc.
Signature Marketing Engine
This is where the magic happens
Recipients
Your client receives the branded e-mail
A closer look
Hover over the blue stars to view tooltip
Multiple Banner Campaigns
Multiple Tracked Links (Hot Spots)
Centrally Controlled Signature (Compliance)
Optional Profile Photo Insertion
Disclaimer: Link or Time Stamp
Download Contact Details (VCard)
Let's get started
Contact us to get your account setup today